Questions You Wanted Answers For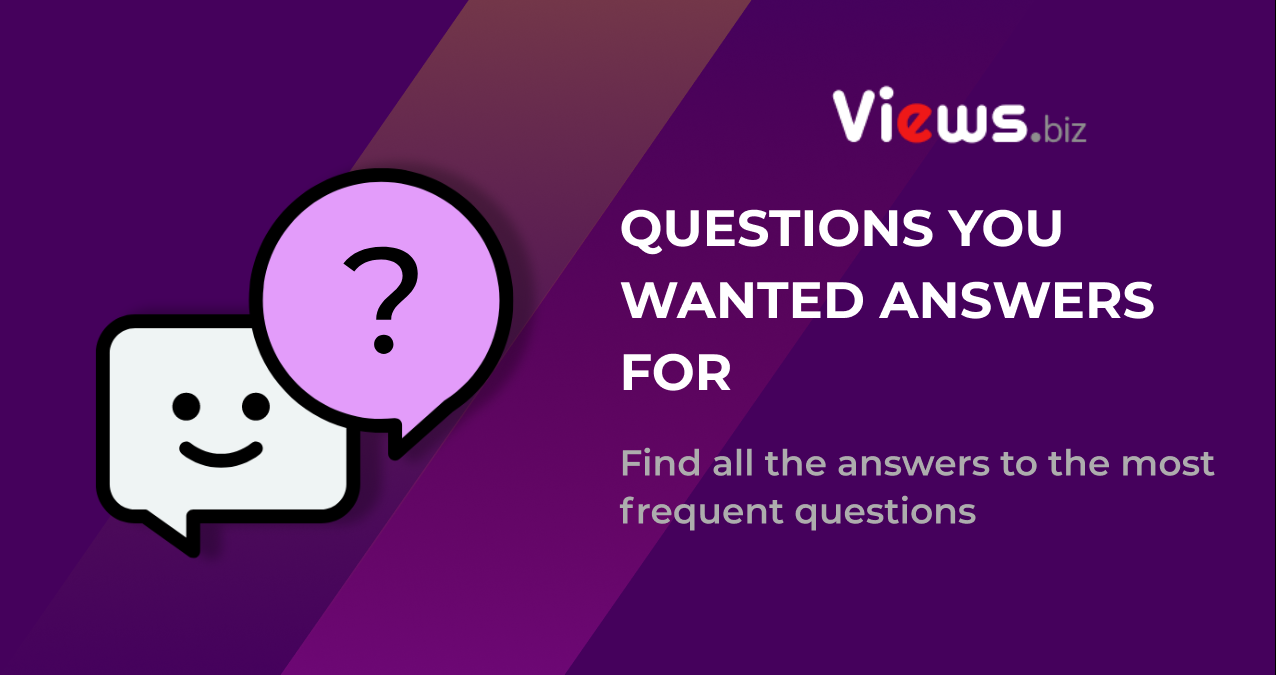 Frequently asked Questions about our SMM-panel
Our panel is growing and the number of your questions is increasing too. So, in today's article we'll give answers to all your questions.
Let's begin!
What services do you offer?
On Views.biz you can order services for all popular social networks promotion:
Cheap YouTube Promotion, Instagram Promotion,TikTok Promotion, Facebook Promotion, Twitch Promotion,Twitter Promotion,Tumblr Promotion, Telegram Promotion, Linkedin Promotion, Web Promotion.
Can you guarantee that my YouTube Views stay forever?
Yes, we will guarantee that all views will count for your video in order. However occasionally YouTube adjusts their algorithm causing views on some videos to drop. Sometimes this impacts our customers, other times it doesn't.
If you see that views are dropped - please contact our Live Support to request a refill and we will do this in accordance with our refill policy.
Is it safe to promote my accounts with the help of your SMM-panel?
It's totally safe because we stand for a transparent policy. Our reputation and the trust of our customers are very important to us. Therefore, View.biz does not use bots, but only sells real goods.
I can't understand what is drip-feed, explain it please
The drip-feed function lets you divide your order into smaller parts which will start automatically during the selected period. Working this way the speed of delivery slows down.
It not only makes your promotion look smooth and real, but protects you from drops. Moreover, the system doesn't need your further participation once you're done with the order. It works automatically. This way we simulate the natural popularity growth so the promotion looks real.
Note that all available drip-feed services are marked with a "rain drop" sign!
How can I avoid drops?
Well, we can't be responsible for social networks updates but here's some tips that can help you to avoid drops:
Choose GEO - targeted services for non-english content.
Don't create a multiorder with the same type of service at once.
If you would like to order Google Views and Instant Views for one video, you should wait until the first order will be completed. This rule doesn't apply to cases when you would like to order different types of services, for example comments and likes.
It is just overall advice. Please check the service description to get more details.
Can you please tell me what is a refill?
Refill means that in case there are any drops on the counter, your order will be filled again. For example, you ordered 1000 YouTube Views, the order was successfully completed and then 300 views dropped. The number of views that have dropped (300 views) will be added back to your account.
Please note that not all Views.biz services are guaranteed. So, you need to read the description before buying any of the services!
How to choose a good promotional service? How to start promoting yourself? It depends on your purpose. If you need a fast start and you can't wait - our platform is the best way for you.
Our support team is always in touch with you. If you have any questions you can ask 24/7. Help desk can decide any problem. You just need to write your message and you will have an answer instantly. Don't be afraid to ask anything. Customer support will be glad to talk to you.
Stay tuned!
Subscribe to our newsletter and never miss a post
You've successfully subscribed
Thank you for your interest!
Don't forget to check your mailbox