Full Guide For Instagram Promotion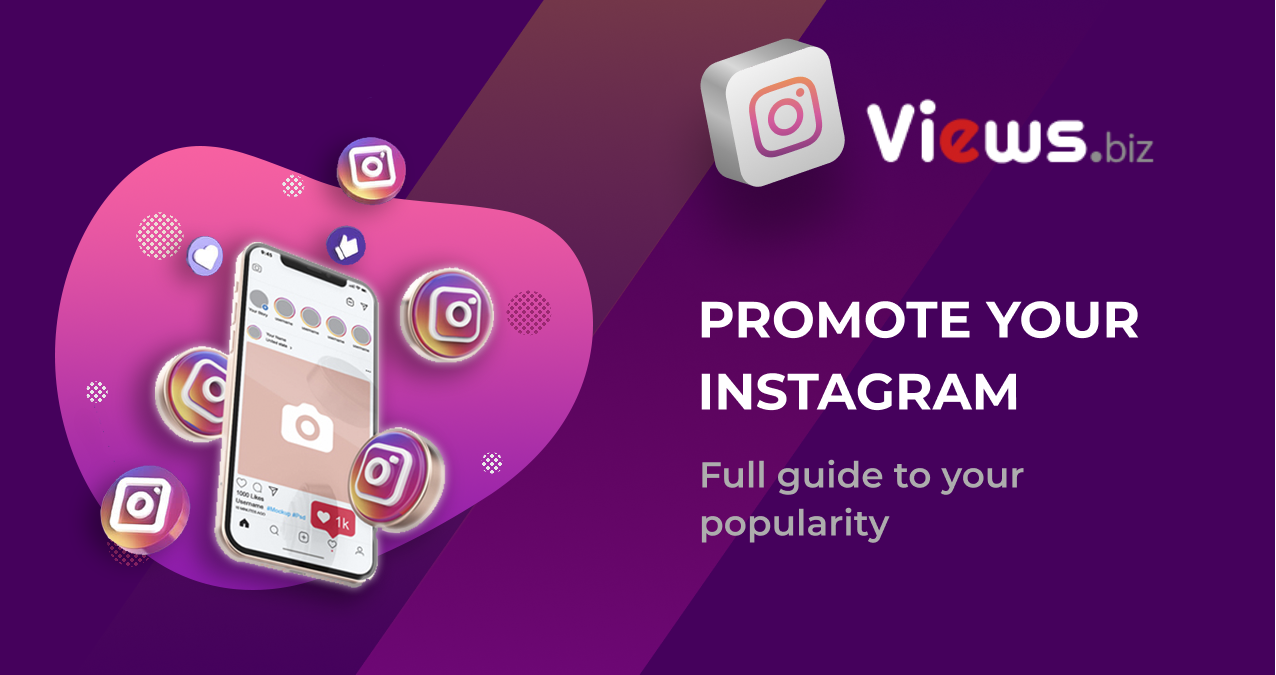 Instagram Marketing: TOP-10 Tips for effective promotion
Instagram marketing is competitive, but not impossible. Instagram is now one of the most popular social media platforms with over 1 billion monthly active users from almost every generation. As a result, the possibility of the growth in the brand awareness of your business is much higher than many other marketing means. There's also a large number of influencers on this platform with a massive amount of followers. With the right plan you can become an influential brand too.
Therefore, knowing the Instagram guidelines and rules in 2022 can help you stand out among all the other competitors in your industry. Here are several powerful Instagram marketing tips (that actually work) that you can use to milk the popular platform for all that it's worth.
1.Switch to a business profile ASAP
Before you start thinking about your Instagram marketing plan, be sure that you have an Instagram Business Account. Just head to your settings and click on "Switch to Business Profile" to get started.
There are some clear benefits to having a business profile.
For example, followers can click on your contact button to get in touch with you right from your Instagram page just like they would from your website.
A business profile allows you to create and publish Instagram ads without a need to use Facebook's advertising tools.
You can also access Instagram analytics tools, called Insights, that provide stats about the impressions and reach of your posts.
Once you've unlocked the free perks that come along with a business profile, you need to start using them to track metrics and understand your audience.
2.Set your goals for Instagram
Before you start posting on Instagram, ask yourself (or your team) one thing: Why are you on Instagram? As popular as the platform is, your answer shouldn't be, "... because everyone else is." To be successful on Instagram in the long-run, you must have a set purpose and goals so you can justify your time, energy, and monetary investment.
There's no right answer here. Maybe you'd like to use your Instagram feed to post and sell your products to customers.
Or maybe you're leveraging Instagram to share portfolio content so followers can see your product (or service) in action. Whatever the reason is, be sure to define your Instagram goals first thing.
3.Optimize your profile
In just 150 characters, your Instagram bio needs to make a great first impression, convey your brand personality, and tell people why they should bother following your Instagram account.
That's a lot to ask from a small space.
Fortunately, you also get a few other fields on your Instagram profile to showcase what your brand is all about and make it easier for people to find you. These include:
-Your name: 30 characters, included in search.
-Your username: AKA your handle. Up to 30 characters, included in search.
-Your website: A clickable URL you can change as often as you like.
-Category: A business feature that tells people what you're all about without using up bio characters.
-Contact info: Tell people where to find you.
-Call-to-action buttons: Give Instagrammers a way to interact with you directly from your profile page.
4.Know your audience and create a strategy
Based on the characteristics of your buyer persona, you can target a group of audience on Instagram. As you know the needs and requirements of your target audience, you can post content that shows them how you can help them have a better life by using your products and services.
This is how you can promote your business on Instagram by knowing your audience. If you are worried about your small follower base, you can use our services and buy followers for your IG account!
5.Use all marketing tools
Business profiles on Instagram aren't all that different from Facebook business profiles.
Through Insights, you can view statistics like impressions, engagement data, and more.
You can even get a breakdown of the demographics of your followers, including information on their age, gender, location, and most active hours.
And of course, the most powerful tool is our services for Instagram promotion. With our services, you will be able to increase your profile engagement by 100%!
6.Use Instagram hashtags
Hashtags started on Twitter, and while they never took off on Facebook, they're a staple of Instagram marketing. By adding text after the # symbol in an Instagram caption, bio, or Story, you can turn any word or phrase into a clickable topic. When users click, they'll be taken to all the public posts tagged with that hashtag. Perhaps even more significant, users can now also follow hashtags that interest them. This provides them with a stream of content, even if they don't follow the poster. It's a great way for users to find quality content they're interested in—and for merchants to expand the reach of their content.
7.Post at times when your followers are online
Being active on Instagram is beneficial because it helps your followers to better engage with you. Every time they see your content on their feed, they can interact with your business. However, one important rule of content posting is to know when to post.
You should check your Instagram analytics and do some research about the period of time that your audience is using Instagram. If you plan your posting strategy and share content at these particular times, you will certainly get a higher engagement.
8.Publish Instagram stories
Stories have developed into an essential part of the platform. Stories led to Story ads, and Instagram has also added Highlights so our Stories can live on forever.
There are a variety of strategies you can use to get results from Instagram Stories, each of which will benefit your business in different ways.
Using Instagram you can increase the sales of your business and enhance your brand image. Knowing the latest Instagram promotion guidelines and rules can help you to better get to your goals and adopt a much efficient Instagram strategy. Wish you the best of luck!
Instagram Followers - $12.75 / 1000
Instagram Story Views - $0.36 / 1000
Instagram Comments - $30.00 / 1000
Read more about Instagram Promotion in our previous articles:
Stay tuned!
Subscribe to our newsletter and never miss a post
You've successfully subscribed
Thank you for your interest!
Don't forget to check your mailbox