YouTube Channel On A Turnkey Basis: What Is It?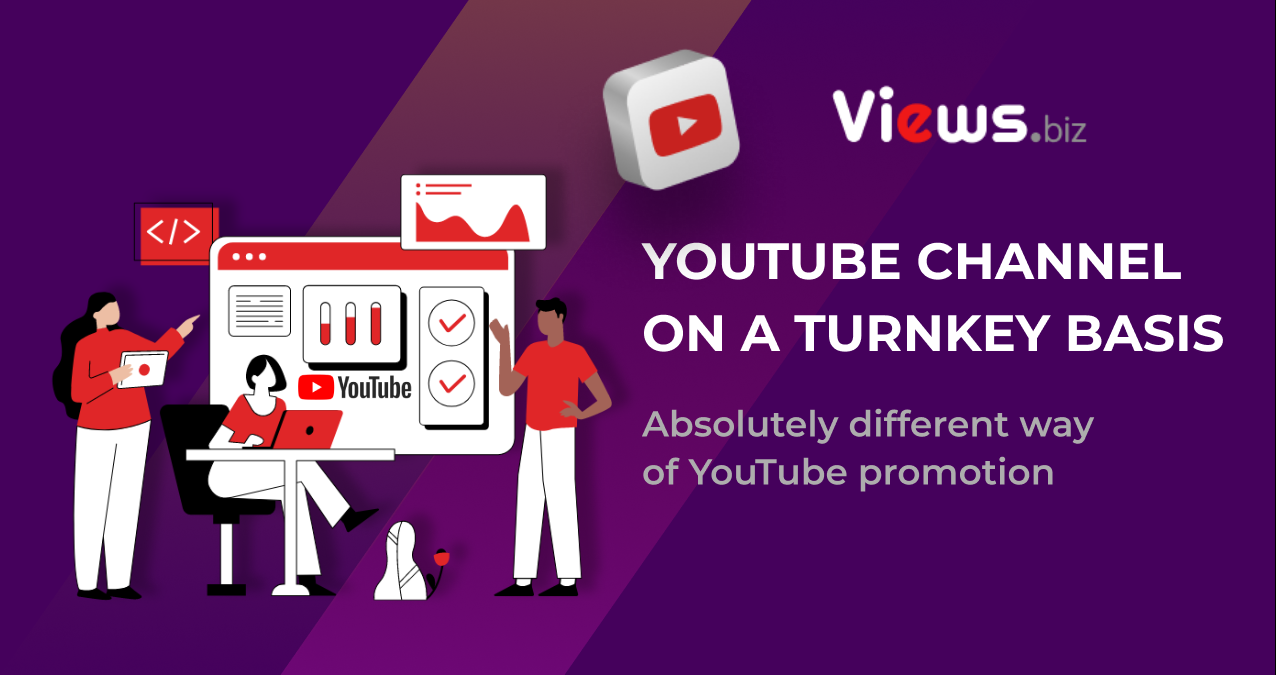 YouTube Turnkey: Boost channel the Right Way
Have you ever dreamed of having good quality content on your YouTube channel? Because good quality equals popularity and eventually, money. But it all requires a lot of work and doesn't always work when you do it by yourself. And our new service is a smart decision for those who are serious about starting their way to popularity on YouTube.
YouTube Turnkey is one of the services provided by Views.biz. Creating a YouTube channel can help promote a product or brand, because now video content in which a potential customer can see the product.
So, today we will tell you more about this new service and answer all your questions about it.
What is "YouTube turnkey"?
YouTube Turnkey is a service which includes all work with your channel! It starts with an analysis of your statistics and metrics and ends with an advertising campaign setup! And the best advantage is that you can choose functions that are suitable for you because we have 4 different packages: Trial, Basic, Gold, Expert!
Who can use this service?
Everyone who wants to promote YouTube channels! The service is designed for any user with both new and existing YouTube channel, which is why our service YouTube turnkey includes several packages: for beginners, for people who have a YouTube channel for a long time, but want to improve all of its performance and basically raise it to a new level or for users who do not have time to do it. As a rule, such a request most often applies to brands, because they need to maintain the quality and metrics of the channel and also increase its rating!
What are the differences between packages?
On our platform, this service is now available in 4 packages, i.e. the Trial Package, the Basic Package, the Gold Package and the last one - the Expert. Packages are ranked from analytics services to full maintenance and support of YouTube channels!
The trial package, it is the first in our list, we have created for users who have a YouTube channel but want to improve its performance and rating - basically its features are designed for people who want to try services for the comprehensive promotion of YouTube. That is, it includes an analysis of the target audience, the selection of SEO texts with key queries and development of the design concept of your channel.
In the Basic package in addition to the overall service for the packaging of the channel are already added functions to configure the advertising cabinet with a link to your data and the launch of advertising.
If you do not have time to deal with your channel, then especially for you in the package Gold to all the features of the basic package is added a more advanced design functionality, that is, you will already have a developed content plan, options of covers for your videos, design profile caps for all types of devices, and detailed SEO work, not only prepared hashtags, but also writing descriptions for your videos with keywords, selection of titles for your videos with relevant requests and ready advertising strategy for your promotion.
The Expert pack already includes all these functions, but also with an extended audit!
What kind of specialist works with this service?
This will be handled by a whole team, that is, our designers, SEO specialists, content-makers, analysts, marketers, target marketers and your personal manager.
Our manager advises you on the selected package
Content Makers prepare the content plan
Designers develop layouts of your covers, according to the content plan
SEO specialists prepare relevant keywords and descriptions for your videos
Traffic managers analyze your channel for setting up and running an advertising campaign.
Marketers work on the visuals of your YouTube profile.
Each package has a detailed description of what it includes, after buying a package you will be contacted by a manager who will accompany you on any question, also you can always freely ask a question to our support service, which is available 24/7 or contact us by mail or Skype, as you prefer!
Everyone in the team knows what to do. We undertake complex projects with short deadlines. A comprehensive turnkey approach from the idea to the launch of an advertising company
To read more about each package you can in the "Service & Pricing" section or just by clicking on this link.
Start promoting your channel today with views.biz and become popular in a short time!
Read more about YouTube Promotion on our previous articles:
Stay tuned!
Subscribe to our newsletter and never miss a post
You've successfully subscribed
Thank you for your interest!
Don't forget to check your mailbox